When I was contacted by Rubybox to participate in their survey for Justine Tissue Oil, I was very interested!  Rubybox is a great service offered right here in South Africa, where you subscribe & they send you surveys to complete that they feel may relate to you & your needs.  You then complete them honestly, & if you fit their brief then they send you samples of a specific product for yourself & your friends to trial.  You usually have to complete surveys throughout your time of using them, & sometimes even send through progress shots to prove that these products are making a difference.

Just please don't sign up to participate & then keep all the products for yourself – that is not cool & completely defeats the object of this campaign!
---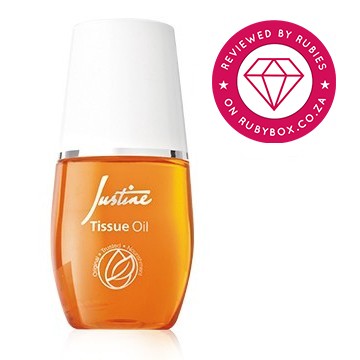 Available in 60ml for R135, and 200ml for R380.
Justine's Tissue Oil Original is formulated with botanically-derived oils like Sweet Almond Oil and Vitamin E, which help the oil to penetrate the skin quickly and deeply to ensure faster, never seen before results.
Tissue Oil is rich in antioxidants that contain anti-ageing properties to help prevent fine lines and wrinkles from appearing over time.
In just 2 weeks, 4 out of 5 women* who used Justine's Tissue Oil saw an improvement in the look of: Scars and stretch marks*, Sun damage**, Skin's elasticity** and Skin's firmness**
*Based on a consumer study where 4 out of 5 women saw an improvement in the appearance of scars and stretch marks after 2 weeks.
**Based on a consumer study
---
When I signed up for this campaign, I had relatively new scars.  From past experience I knew that my skin keloids & marks easily, & my older scars are still very visible despite some of them being over 20 years old.  I am a scab picker (terrible habit I know!) & have bad acne scarring on my face from my teenage years.  I had 3 operations at the beginning of 2018 & really wanted to see if tissue oil was worth all the hype.  Would it really make my scarring less visible, as well as my skin softer?
---
This slideshow shows the progression from my original scars, to 2 weeks later, & finally after 4 weeks.  I applied the oil every morning & evening during this period & I really feel that this is key – you need to maintain the application in order to get the best benefits & see the best results.
The scars I used them on here were from an open lung biopsy, & where my chemo port was inserted.  You can see in the images that they are still quite new & red so they could really do with some help!  You cannot apply oil to 10 year old scars/marks & expect to see a huge difference – you need to put together your plan of action quite early on & sort them out when they happen.  In fact, I think I will always ensure that I have some tissue oil in my cupboard when I go for any type of surgery.
Having used this religiously for the full four weeks, this was my honest review:  "Being chronically ill, & having had 4 operations this year alone means that my poor body is COVERED in scars. My skin has also taken a huge beating from this JHB winter & it was looking scaley & gross. Getting this oil was literally the best thing I have ever done. My skin has softened & my scars are not as red & angry. I no longer feel like my skin is pulling in those areas, but is moisturised & fading a little every day. The fragrance is so pleasant & the oil soaks in quickly so it does not stain any clothing. I think every woman should have this as a staple in their cupboard!"
---
I would really encourage everyone to sign up for Rubybox's great service, answer the surveys honestly, & spread the word amongst your friends.  You can also like them on Facebook, Instagram & Twitter to stay up to date.
Let me know if you have answered any surveys & been sent products to trial.  What are your thoughts?
---