Last night I had the honour of attending the launch of Tell in Joburg.  I was really excited for this as I met one of the founders at RareX earlier this year, & have been following her on social media for some time.  I have been a registered organ donor for a couple of years through the Organ Donor Foundation of SA, & have always made my decision known to my family & doctors.
Tell stands for Transplant Education for Living Legacies & is educating South African's about organ & tissue transplantation.  They brought to our attention the fact that the most important part of donation is conversation – meaning that we need to TELL others about organ donation; let others know when we are an organ donor; & share any posts on social media when we see that someone is needing a transplant.  Who knows if that could be a friend or family member of ours that we are needing to save, or if it could even be us?
---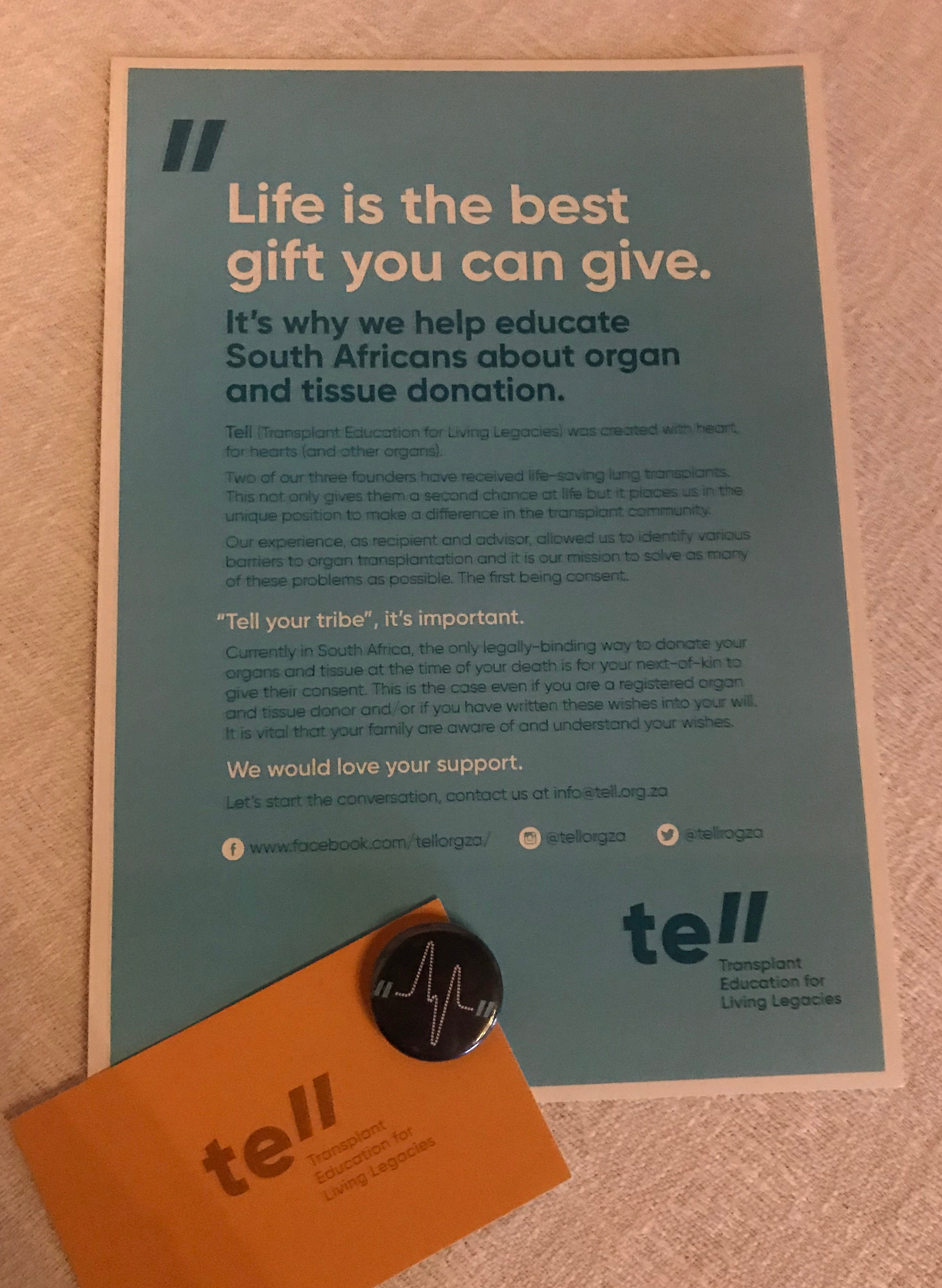 Tell is encouraging us to #tellyourtribe in order for them to provide consent for when you are unable to; #tellyourteam i.e. hospitals & donation teams for referrals or to help a potential patient; work together in collaboration to get positive statistics; & educate others to create awareness.
---
Did you know that even if you have registered as an organ donor it doesn't necessarily mean that your organs will be donated if you pass away?  Ultimately the decision is left up to your loved ones who have to say "yes" or "no" to the transplant team – they are already trying to process the loss, & if they do not know if you are wanting to donate your organs it is difficult to try make this decision in such a time.
---
The ultimate dream is to make organ donation mandatory in both the public & private sector – this means that people would have to OPT OUT of donating their organs, rather than having to necessarily opt in.  This is an absolute 'head in the clouds' dream, but if you don't dream it you can't achieve it!
During the event I also discovered that Tell has arranged closed support groups on Facebook for both donor families & recipients so that they can travel this journey together with others who can offer advice & support; & they can work together to process this big change in their lives.
---
Dr Williams (Critical Care Specialist from Milpark) & Dr Wadee (nephrologist from Wits Donald Gordon Medical Centre) were speakers at this event.  It was so interesting hearing about this topic from a healthcare professional's point of view.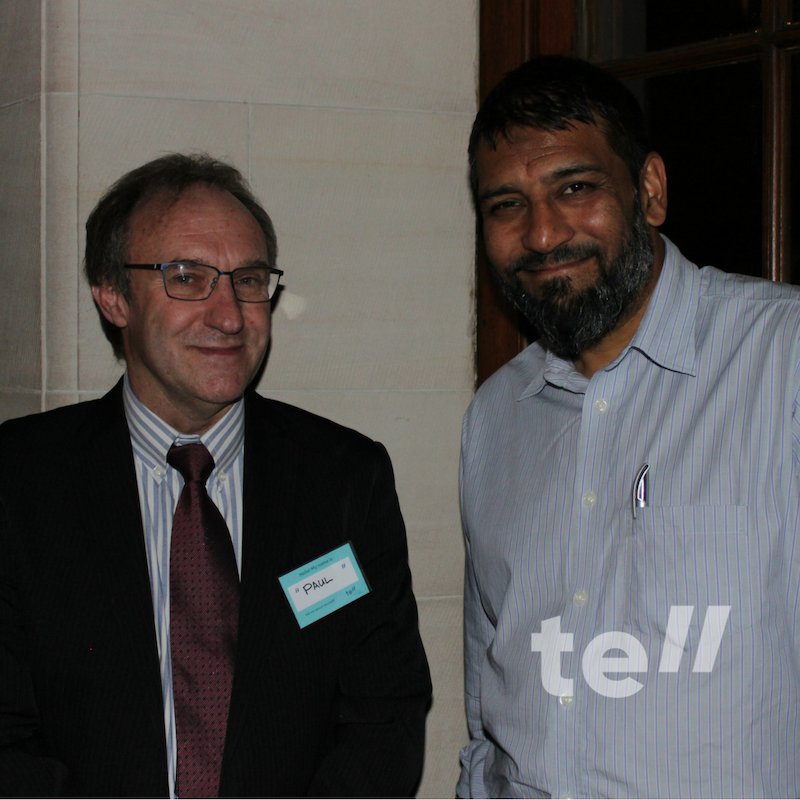 They reminded us about the real heroes in life.  The donors give a gift of a second chance, or in many cases, the chance of the recipients first real life.  This gift is given freely, & is possibly the greatest gift of all time.  However we also need to remember the recipients & the fact that they are heroes too.  Having a transplant is not as simple as getting a tooth pulled at the dentist.  It takes extreme bravery, trust & faith to undergo something like this; & they are the true heroes amongst heroes!
Did you know that there is such a thing as a living donor?  You can donate your kidney or lung, or part of a liver whilst you are still alive.  Why wait until you die to make a difference?  Who knows if you could save the life of a child, a mother, a friend, a brother…  There are also brain dead donors – however this takes enormous effort from the ICU side, & unfortunately we often suffer from ICU rationing in SA.  The body is given artificial respiration. This allows the heart, lungs, liver, pancreas, kidney & small intestines to remain suitable for transplantation.  Lastly there are non-heart beating donors which is as a result of cardiac arrest.  The organ retrieval needs to happen quickly after this type of death otherwise they will not be transplantable.
---
Please follow this amazing charity on Facebook, Instagram & Twitter.  Get involved, create awareness, & spread the word.  Who knows if you or your loved one may need a transplant to save your life some time in the future!
We, as run-of-the-mill human beings, need to live better & healthier lifestyles.  Who know who we could save because of this.
---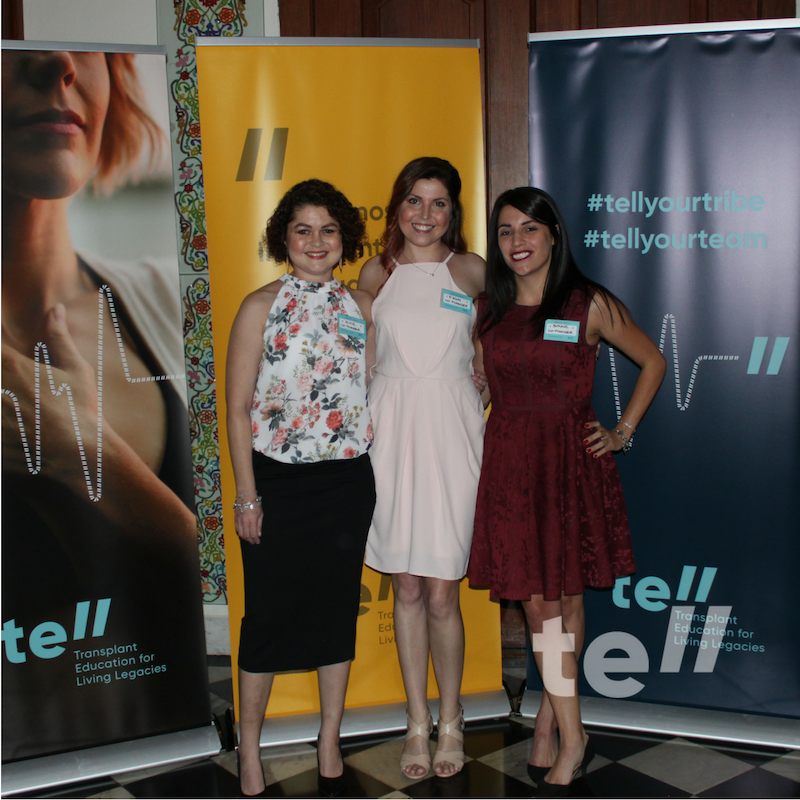 MORE ABOUT TELL…
Life is the best gift you can give. It's why Tell helps educate South Africans about organ and tissue donation. Tell (Transplant Education for Living Legacies) was created with heart, for hearts (and other organs).
Two of the three founders are speaking from first hand experience, having received life-saving lung transplants. This not only gives them a second chance at life, but it places them in the unique position to make a difference in the transplant community. Their experience allows them to identify various barriers to organ transplantation and it is our mission to solve as many of these obstacles as possible.
One of the biggest problems we face in South Africa lies in the process of identifying and referring potential donors. South Africa already has a shortage of organ donors, and the lack of education around the situation is only making matters more difficult. It is also important to note that in South Africa, the donor's family has the final say in whether or not organs are permitted to be donated.
Tell's goal is firstly to help educate both potential donors as well as medical healthcare professionals, and break the stigmas and misinformation around organ and tissue donation.
Secondly, we want to encourage anyone who wants to donate their organs to TELL THEIR TRIBE of their wishes to be an organ and tissue donor. Awareness is key, and we firmly believe that the most important part of improving organ donation environment is conversation.
Our mission is to end the waiting list by changing and leading the conversation around organ and tissue donation in South Africa.