This last week I got to attend the unveiling of the fresh new-look Whiskas Dry Food at the official launch in Fourways, Johannesburg. My friend Brent Lindeque, aka "The Good Things Guy" was the purrrr-fect host for such a fun event, and I was taken to tears as we heard about the work that Wollies Animal Shelter is doing- and again when they were presented with R15,000 worth of premium cat food by the amazing Whiskas family.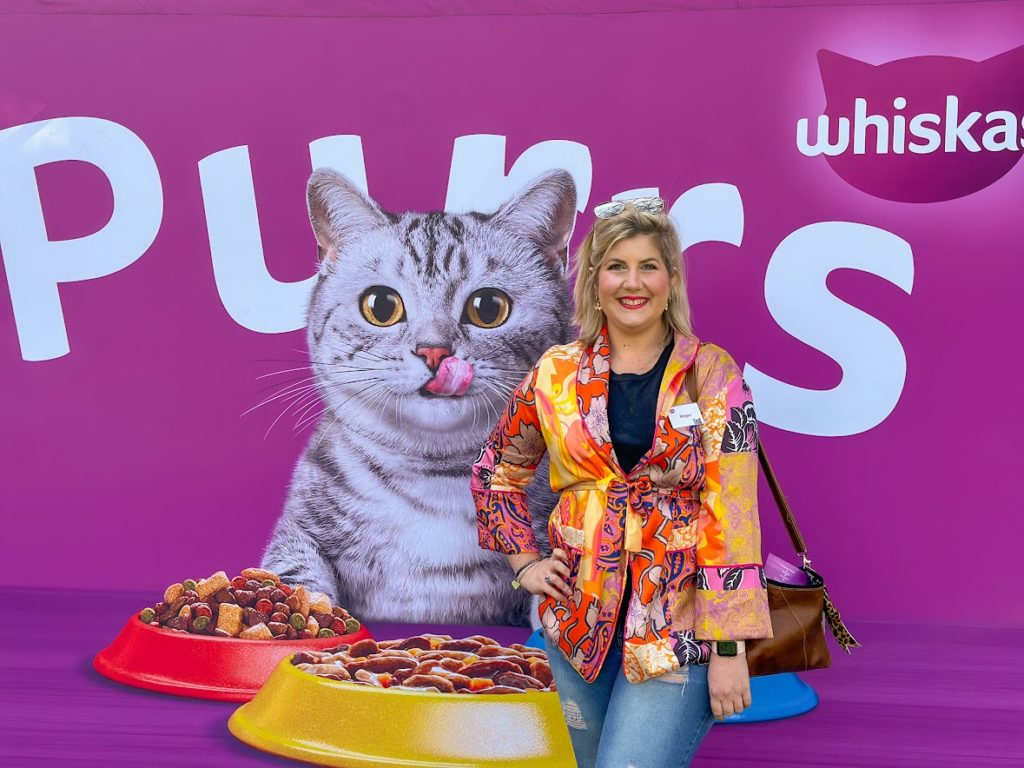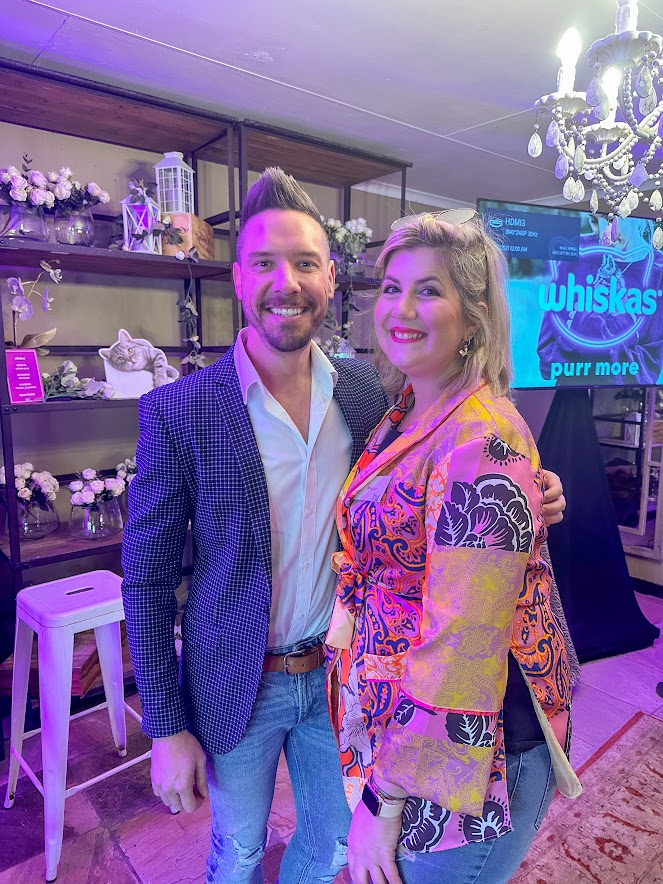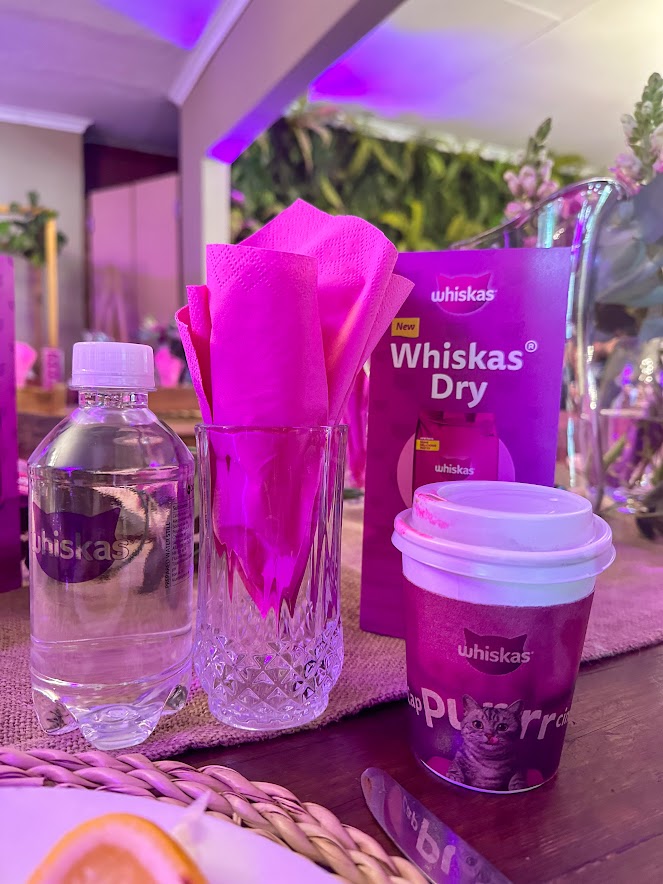 It was a magnificent event, and I learnt so much about what makes Whiskas different; as well as getting to spend some time with fellow cat lovers, which was amazing!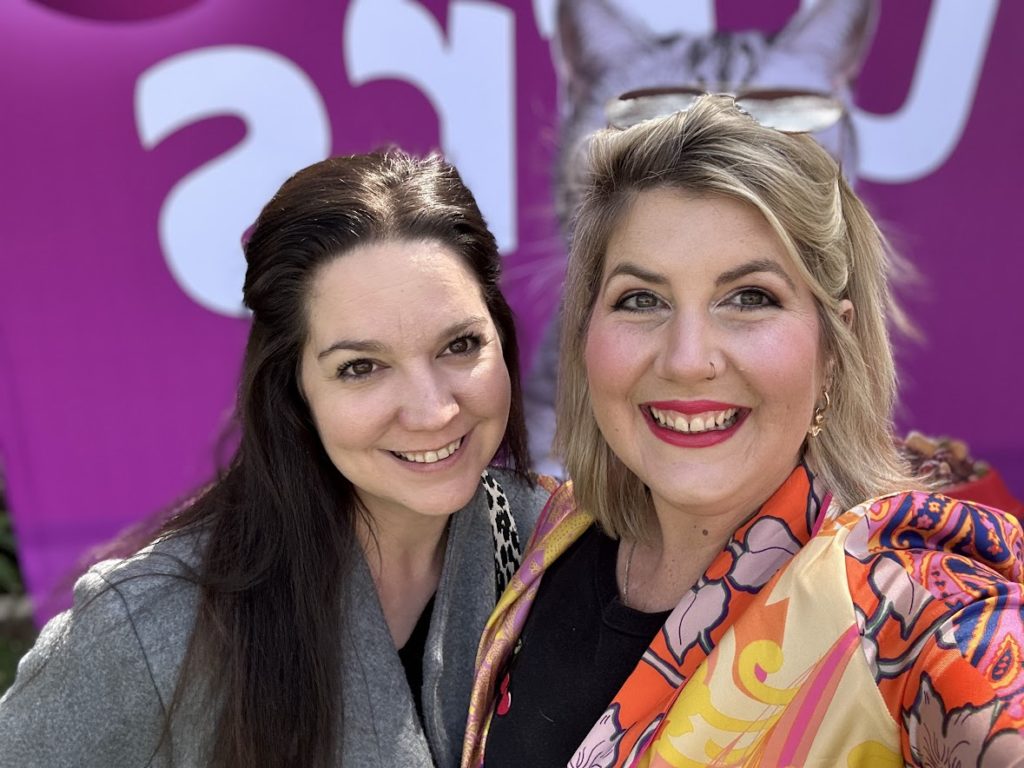 ---
Here is a little more about the brand, and the official press-release for the event:
New-look Whiskas Dry Food gives your Favourite Feline more Reasons to Purr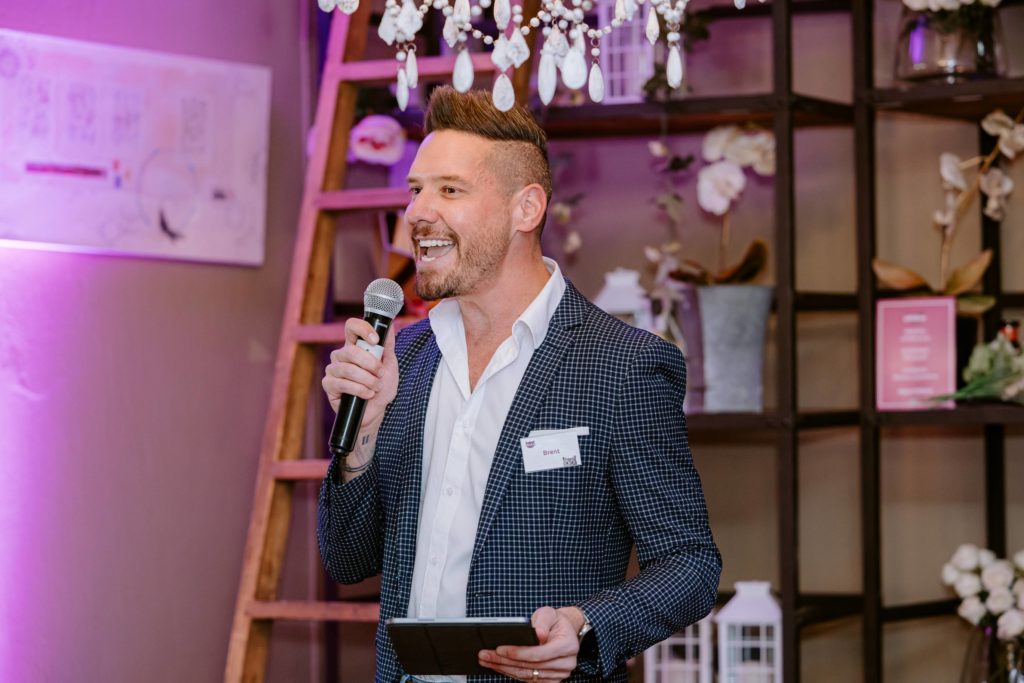 JOHANNESBURG, SOUTH AFRICA, 13 SEPT – Whiskas Dry Food is back with a fresh new look, tasty improvements and is more sustainable than before – while iconic cat-bassador, Tommie, stays front and centre for the brand.
The development of the new Whiskas Dry Food is part of a continuous process of innovation undertaken by producers Mars to stay relevant and meet the evolving needs of cats and their owners – including a variety of new pack sizes tailored to South African wallets.
"At Mars Petcare, we believe pets truly make the world a better place. That's why we're inspired to make a better world for pets, a world where they're healthy and happy," says Mars Portfolio Manager for Petcare, Verushka Veerasamy.  "Whiskas is committed to creating a world where every cat "purrs" more and we believe our new Whiskas Dry Food delivers on that promise. We're proud to be South Africa's number one cat food brand."*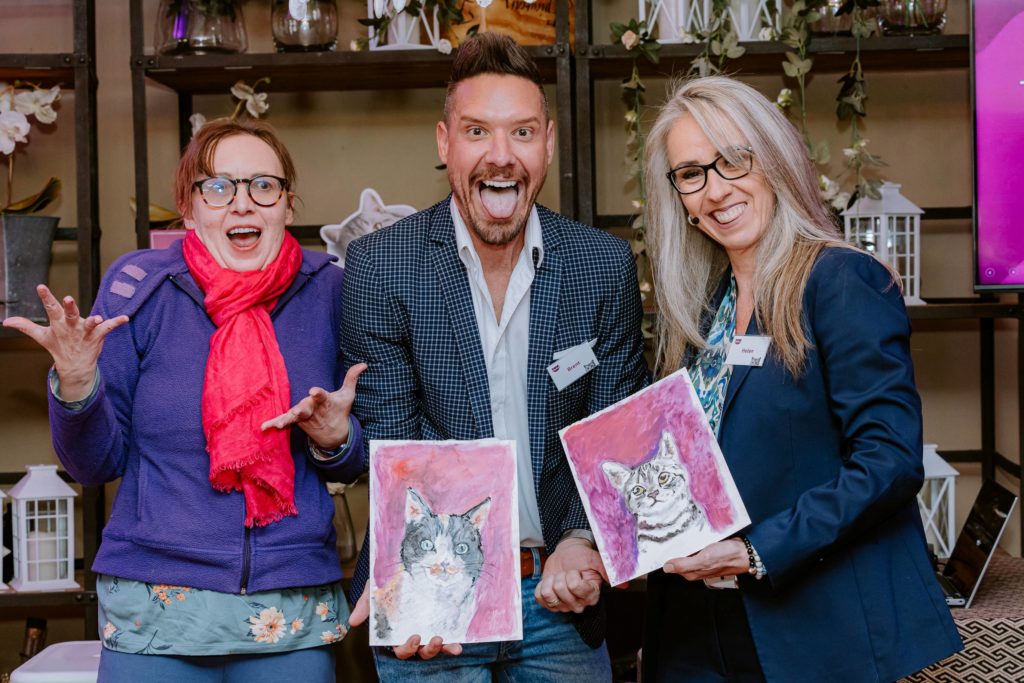 A focus on nutrition
While creating an enjoyable everyday feeding moment for cats is important, Veerasamy says Whiskas is also focused on nutrition. "We understand that pet owners want to provide overall goodness and nutrition throughout their cat's life, so our Dry Food strikes the perfect balance between taste and health."
Developed by veterinarians at the Waltham Petcare Science Institute, the Whiskas Dry Food range contains multiple fibres, promoting gastrointestinal health, and prebiotics to support healthy digestion. It is made with no added artificial colours or preservatives. The range includes different variants for kittens, adults and sterilised cats, considering their changing nutritional needs. For instance, the kitten food is easily chewable and infused with milk and immune-boosting antioxidants. Whiskas Dry Food is 100% balanced and complete for your cat. It is packed with all the vitamins and antioxidants to boost your cat's immune system.
More extra crunchy pockets and improved kibble
Inside the new-look packaging is the same taste that cats know and love, with a delicious addition – more cat-favourite crunchy pockets. "We've discovered that these nutritious little nuggets are just about every cat's favourite in the bag, so we've put even more enjoyment into every pack," says Veerasamy. The kibble has also now been optimised to a unique pellet shape that helps clean your cat's teeth.
"During and post-pandemic, pet parents have been spending more time than before with their pets and, as a result, we've seen a shift in buying habits. Excellent nutrition is always a priority and our customers are keen to try out different things and offer variety to their pets. We're excited about the benefits that the new range offers."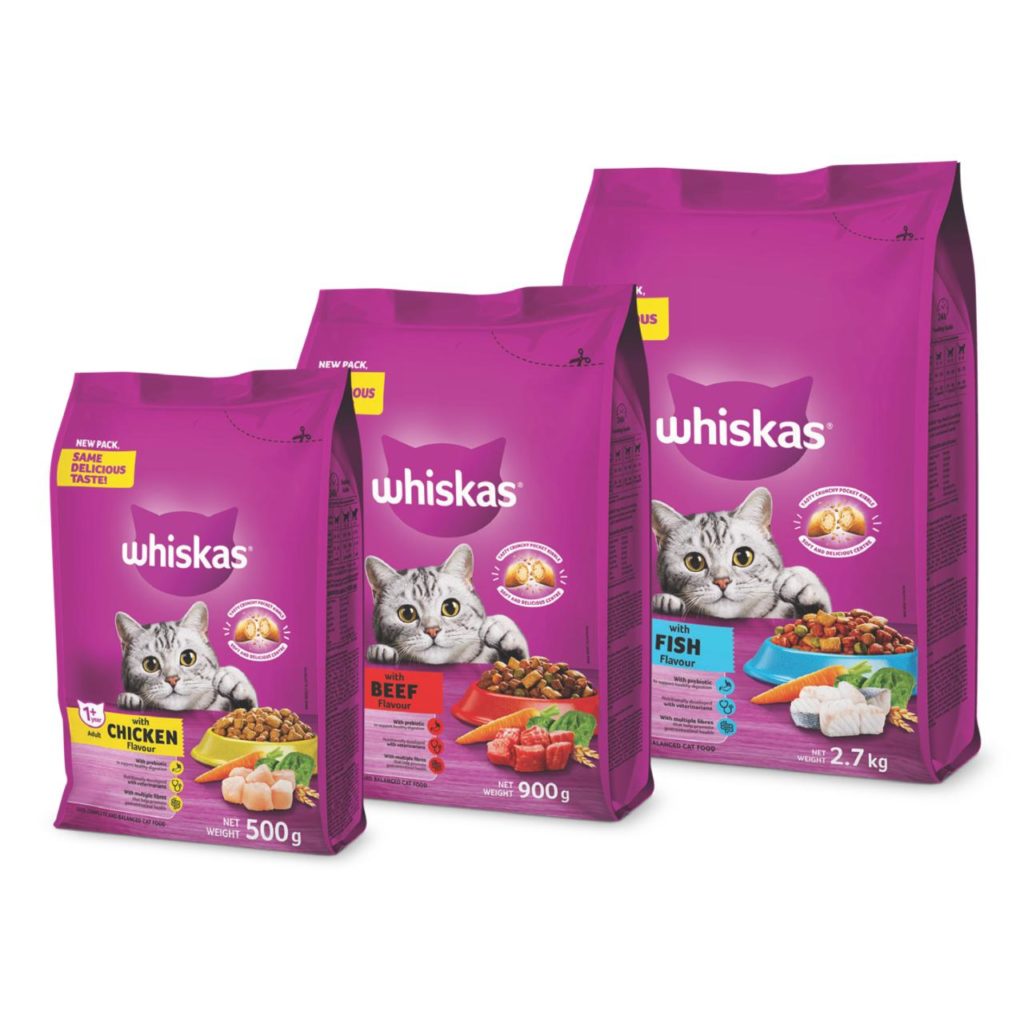 Packaging – a fresh new look
Whiskas Dry Food is now available in new distinctive packaging, colour-coded to show the different varieties and in an array of sizes. The new pack sizes provide a range of options that suit different household budgets, ensuring that customers can choose a size that best suits their needs.
Sustainability
For Mars, a better world for pets also means a more sustainable world for pets, people and for the planet. Committed to reducing its environmental impact, Whiskas Dry Food is more sustainable than before. As part of an overall commitment to reducing environmental impact across Mars Petcare brands, the brand is creating more recyclable packaging as well as reducing wastage. The brand's factories use 100% renewable energy and the fish in the recipes is sustainably sourced. "It's all part of a broader plan across Mars to promote sustainability in everything we do – across our operations, supply chain and packaging," says Veerasamy.
Giving back
As a company, Mars also believes it has the responsibility – and the opportunity – to leave a lasting impact on the world. Whiskas is dedicated to social responsibility initiatives and consistently supports a number of cat shelters across the country. To celebrate the launch, the brand is donating R15,000 worth of Whiskas Dry Food to Wollies Animal Shelter, which cares for over 400 abandoned cats. Founder and manager Cilla Trexler says, "Our cats just love Whiskas, it's an absolute treat for them. Mars has continued to support us with cat food over the years and we appreciate their donation."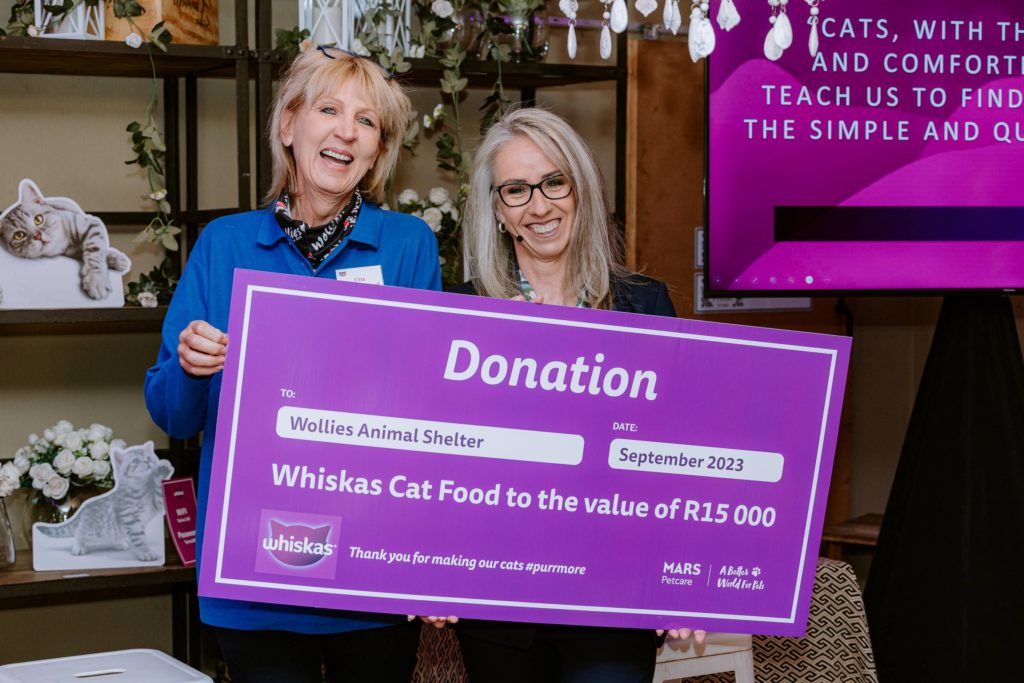 WIN
Whiskas invites all South African cat owners to join the celebration and participate in a competition to win a year's supply of Whiskas Dry Food. To enter, complete the Purr-sonality Test – a quick and quirky quiz to help cat owners better understand their cats and ensure they purr more – at www.whiskas.co.za.
For more information about Whiskas and its products, please visit www.whiskas.co.za.
*Source: IRI 12mm July 2023
(ENDS)
About Whiskas
Whiskas is South Africa's number one cat food brand, dedicated to helping make cats happier and healthier. With a focus on taste, nutrition, and sustainability, Whiskas continues to innovate and improve its product offerings to meet the evolving needs of cats and their owners.
About MARS
Mars, Incorporated is an American multinational manufacturer of confectionery, pet food, and other food products and a provider of animal care services, with US$45 billion in annual sales in 2022. Family-owned, future-facing and purpose-driven, Mars was ranked as the fourth-largest privately held company in the United States by Forbes. 
---