When Libby started helping us in our home some time back, I asked her what she would like to wear.  Did she want to wear civvies, or would she rather have a uniform?  She said a uniform would suit her better as this made it feel like she was going to work & she didn't want to get her regular clothes dirty.
Being chronically ill means that there are lots of things that I cannot manage around the house.  Libby helps take care of me & my animals, as well as making sure that my house looks beautiful & clean.  She is the kindest soul, & has become such a special friend to me.
When I was looking for a uniform for her, I was so sick of seeing the same ones in every major retailer.  They had no shape; were plain & boring; & just didn't suit Libby's flair & love for life.
Then I discovered PBG on Facebook & showed some of the pics to Libby.  She said she LOVED the colours & style so I placed my order that same day!  When they arrived she was so excited, & said that she would even wear it to church or special events.  She modelled all the different colours for me!
I also ordered the matching aprons with the dress & it honestly looks so stunning!
---
I chatted to the PBG team about this amazing business:
The business started when we were approached by our house keeper (Pretty) who bought a similar dress and asked if she could rather wear something like it to work. It looked so beautiful that we thought it had to be shared. We then posted it on Facebook and the response was overwhelming. And so the business was born.
The business named after 3 of the partners: Pretty, Brightness and Ntombi (girl in zulu).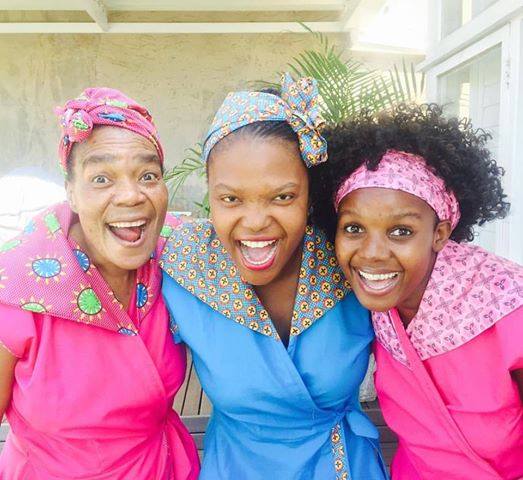 We currently have 2 dress designs, the original and our straight line design. These are offered in 7 different colours. We have also just launched our cotton twill dress, and all are available for viewing on www.prettybrightgirls.com & the Facebook page.
People can order online and we deliver anywhere in SA, they can also purchase from one of the 11 Spars we are currently in.
I would say the greatest difficulty we faced as a start up is getting any money from banks. But we all came together as a team and have somehow made it work. Banks don't seem to like start ups much
We just want to inspire these lovely ladies with the most personal jobs in the world!! Everybody should feel beautiful and proud in what they wear.
---
This is such a great company, run with so much love & passion for empowering women & making everyone feel beautiful!  It reminds me of why we are proudly South African, & that by working together we can achieve great things 🙂