Family…  Forever.  For Always.  No Matter What.
When its your birthday, you start getting all these requests of "what would you like?", "what do you want for your birthday?" etc etc.  I had no cooking clue what I really wanted, so began to search for something that would be special & that I would keep forever.
As I was looking around our house, I realised that we didn't have any recent pictures of husband & myself.  Our last "proper" pictures together were at our wedding – back in October 2012!  Then, I came across a very talented lady called Christine Bernard.  She used to work under Flat White Concepts, but is now in the process of streamlining all her business to her own website & FB page.
I told husband what I would like, & left the rest up to him…  On my birthday I woke up to not only ONE family pic, but also an image he had had especially designed of how he viewed me.  He had these printed onto canvas for me & they honestly brought tears to my eyes.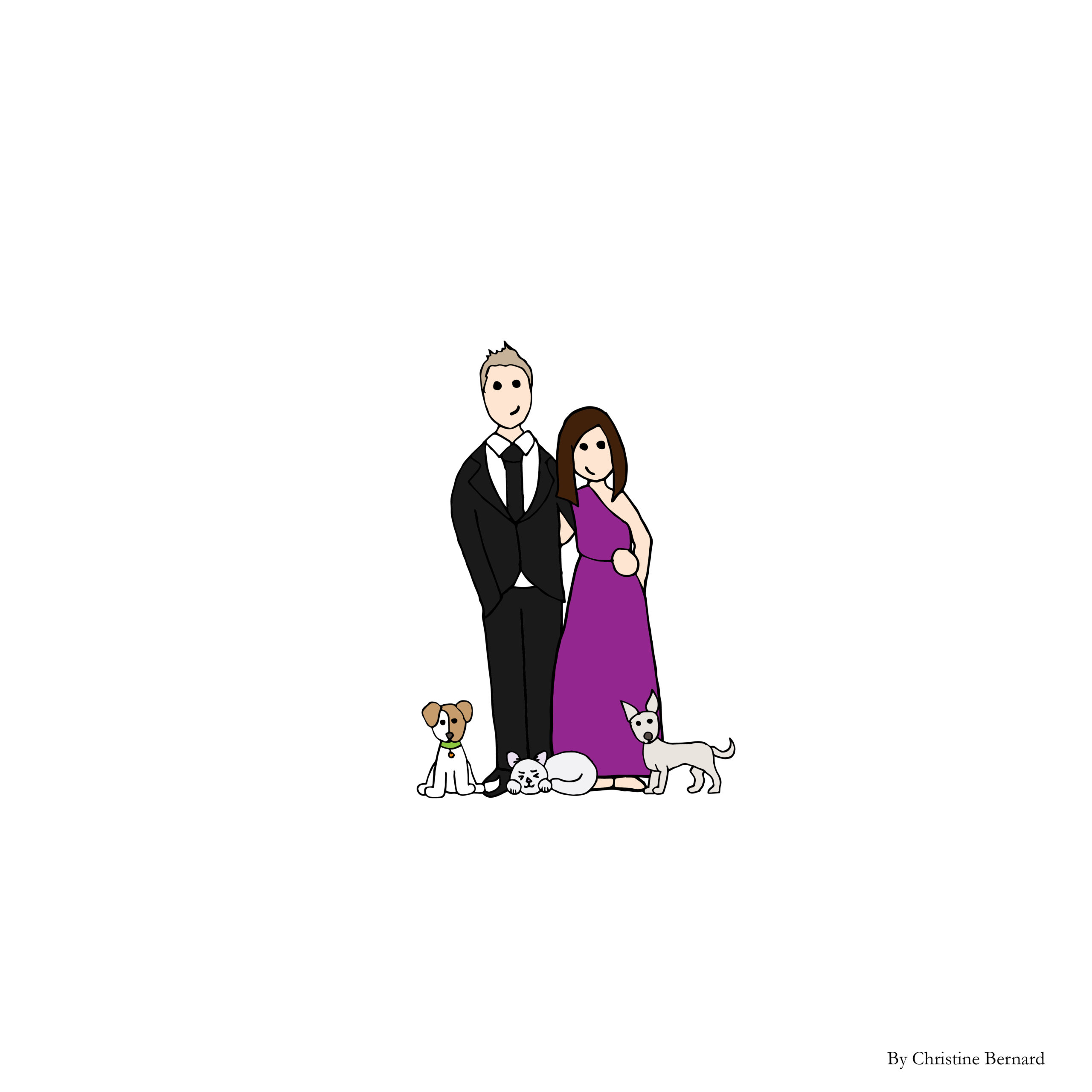 Aren't these just amazing?  Since then I have contacted her to commission more special pieces for friends & family; & each & every time I am completely blown away by what I get back.  You simply send her photos & descriptions of what you are looking for, any special requests you may have & hobbies of the individuals – then she sends back your one-of-a-kind image within 1-4 days.  #amazeballs
---
I knew I had to get to know Christine a little better so asked her to answer a few questions:
Your name: Christine Bernard
Some interesting/fun facts about you: Other than my love of books, coffee, wine and art, I am OBSESSED with guinea pigs. We have two, and we treat them like our children.
Your business name: I am a novelist and Illustrator, and I also run an online magazine.
When did you start: I started my own business five years ago, when I first moved to Cape Town. I started off just doing the magazine and graphic design, but I have recently added novels and illustrations to the mix.
What did you do before this: I worked as a graphic designer for Mum's Mail Magazine in Durban.
How/why did you start: I have always wanted to work for myself, so when I moved to Cape Town I decided to take the plunge.
What do you love most about having your own business: The flexibility is the best part. Also, cuddles with my guinea pigs throughout the day.
What have been some of your biggest battles with running your own business: Learning how to switch off is still the hardest part, and I often find myself working in the evenings or on weekends. When I first started out it was also hard to figure out pricing structures, and I said yes to every job that came my way whether it paid well or not. Five years in and I finally know my worth! I also know when to say no!
What is your main objective for your business: My business is a multi-layered – I write novels, I am a freelance writer, I doodle, I do layout design, and I run an online magazine. I like the diversity! It also means I'm never bored.
Links:
---
Thank you Christine for your time spent on all the different projects for me, for creating something I will treasure forever, & for just being you!