I have always been a fan of Instax, and own an Instax Mini 11. I love creating memories, printing out photos and putting these up around my home. To be fair, I hadn't printed photos for years until I got my Instax and was reminded how much I love having my memories to look at in person instead of simply forgetting them on my phone.
Recently I was sent the Instax Mini Evo to review, and I was so excited when I was first informed of this. I started doing some research, and knew that I wanted to bring the camera with me during one of my community outreach days so I could take some pics for the people we visit. Printing photos is a novel concept in reality, and this camera had some super cool functions that I wanted to put to the test.
Please note that all featured photos have been used with permission of the person photographed.
---
KyaSands Community Outreach
The community work I am involved with involves walking through our local township doing wellness checks and handing out donations of food and blankets when possible. We form relationships with all those that we are in contact with, and it has taken us years to gain trust and understanding from this community. We have upskilled the women of the community, and they make the most gorgeous handmade crafts to help support their families. When I speak to people about this work, they don't necessarily understand what is happening just down the road from our homes, or the dire need that there is for so many. I hope that some of these pics can help to show that.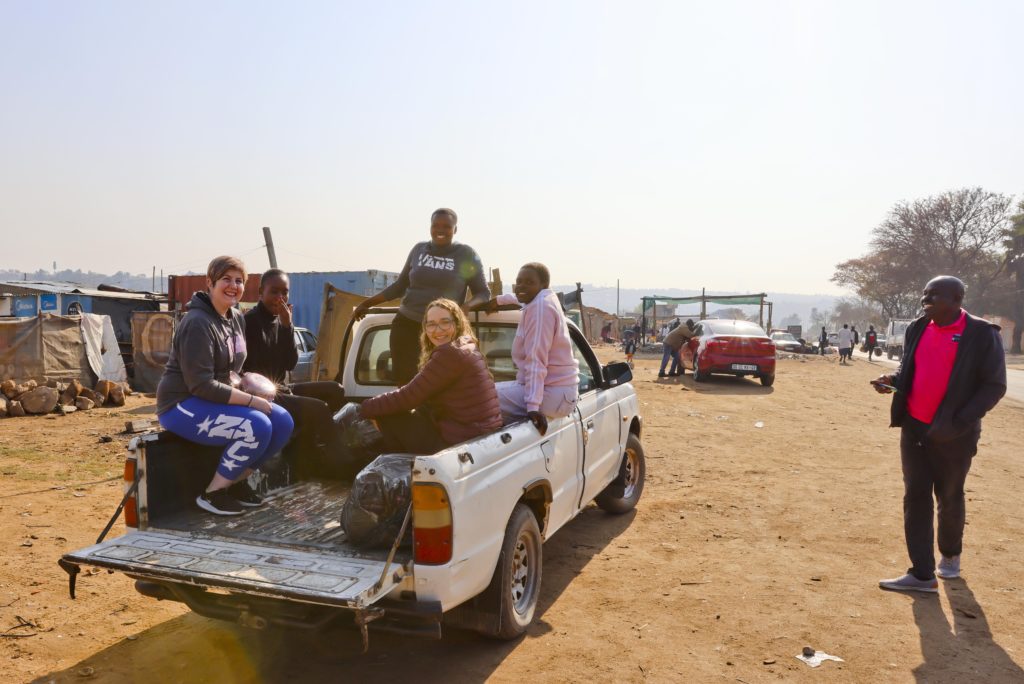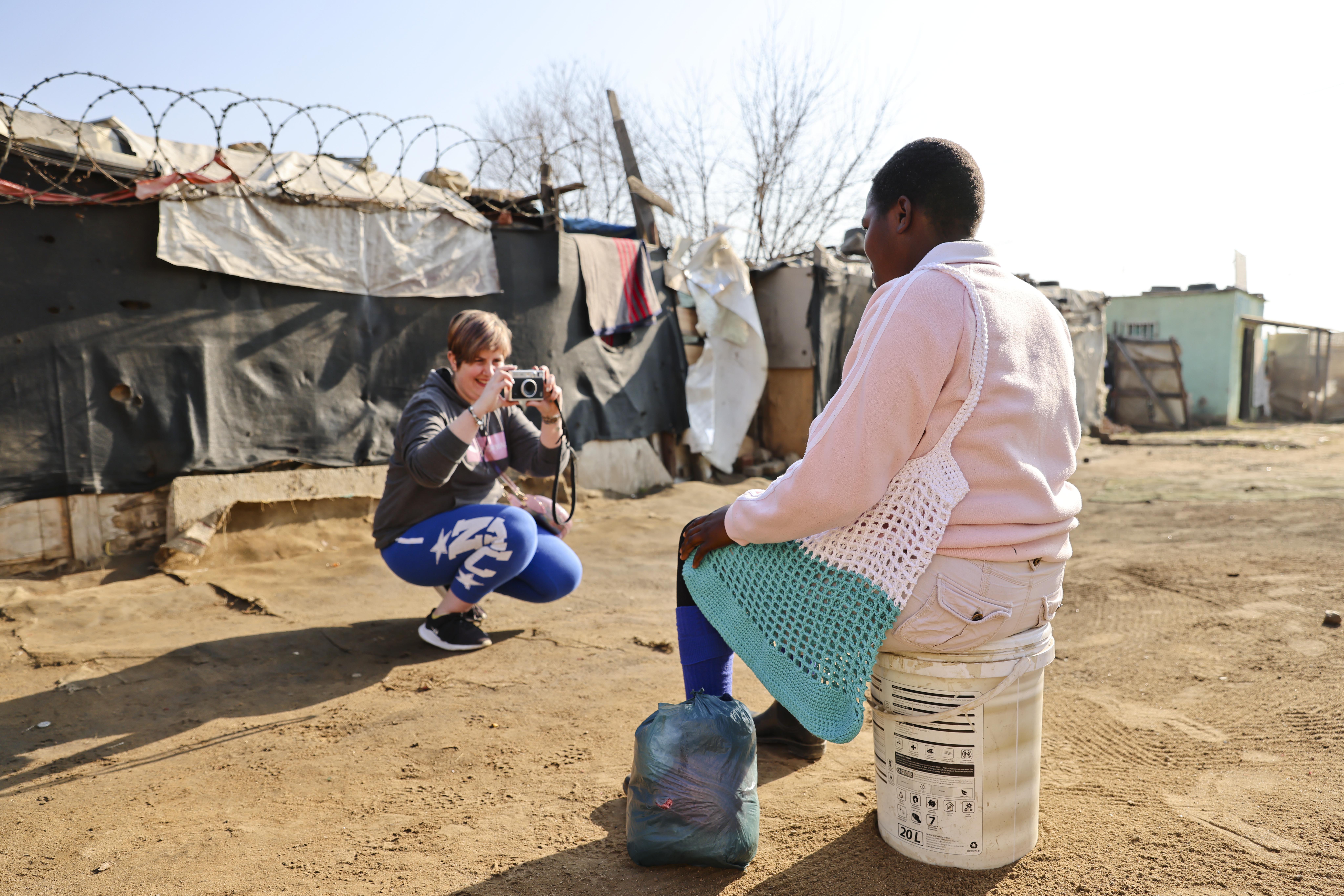 Lens Effects
When I met up with Mufaro first, she immediately asked me to take out my Instax and snap a quick shot of her. I saw that the Instax Mini Evo has 10 lens effects for taking your photo:
Normal
Vignette
Soft Focus
Blur
Fisheye
Colour Shift
Light Leak
Mirror
Double Exposure
Half Frame
We decided to try the "Mirror" effect as you can see above. I showed Mufaro how to help with developing the images by placing it on her arm to allow for her body heat to transfer and bring clarity to the image.
We were then surrounded by people living nearby who also wanted their pics taken, and also wanted to try to use the Instax camera themselves.
The Instax Evo Mini is easy to use, and the large digital screen allows you to clearly see what you are photographing, as well as choose your favourite image to print before pulling the print lever. Ka-ching! It really is like winning at slots when the beautiful photo slides through the camera.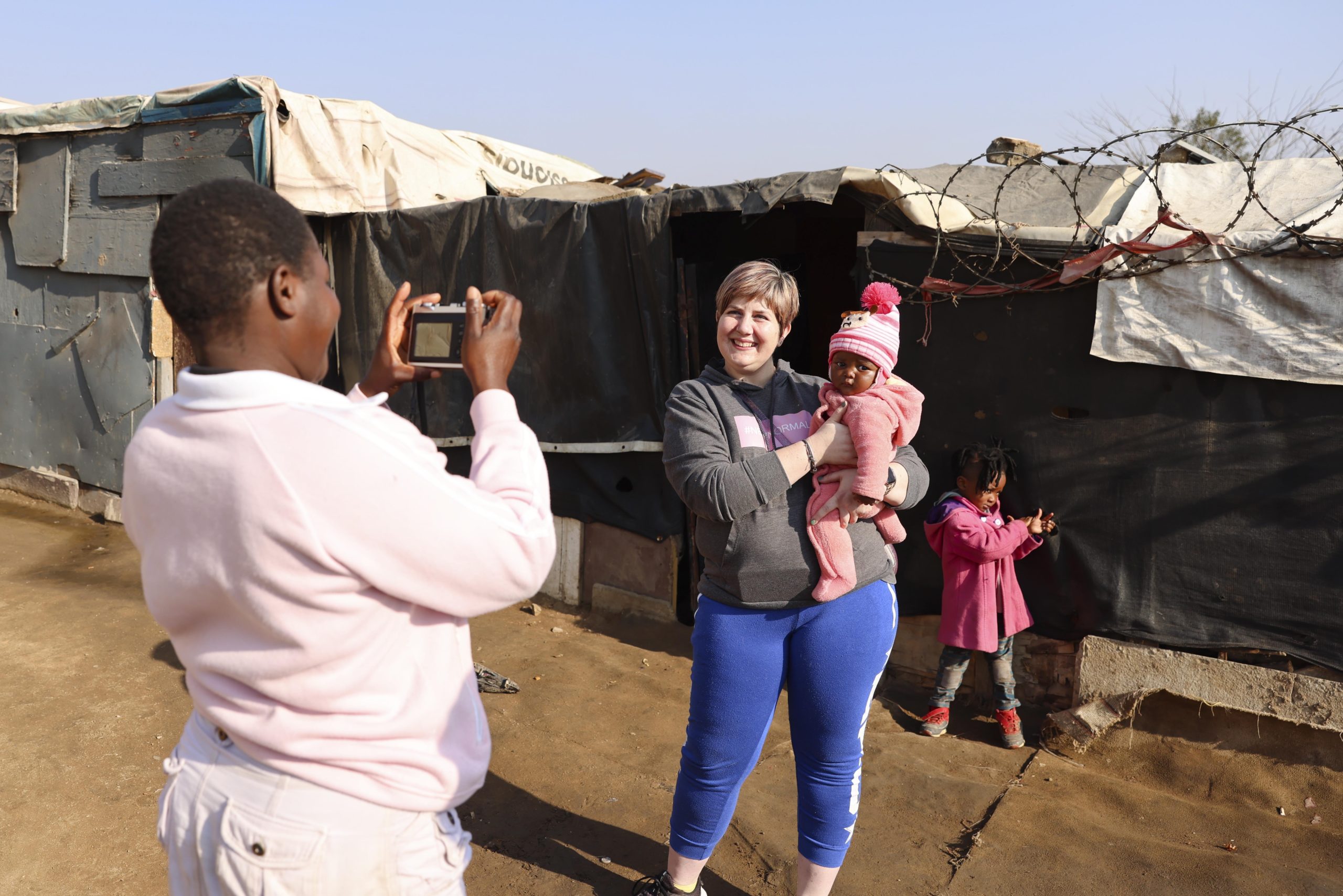 I loved having the opportunity to share photos of families with each of them, and we saw them quickly running inside to stick their photo on their wall or to proudly show off to their friends.
---
Life in the Township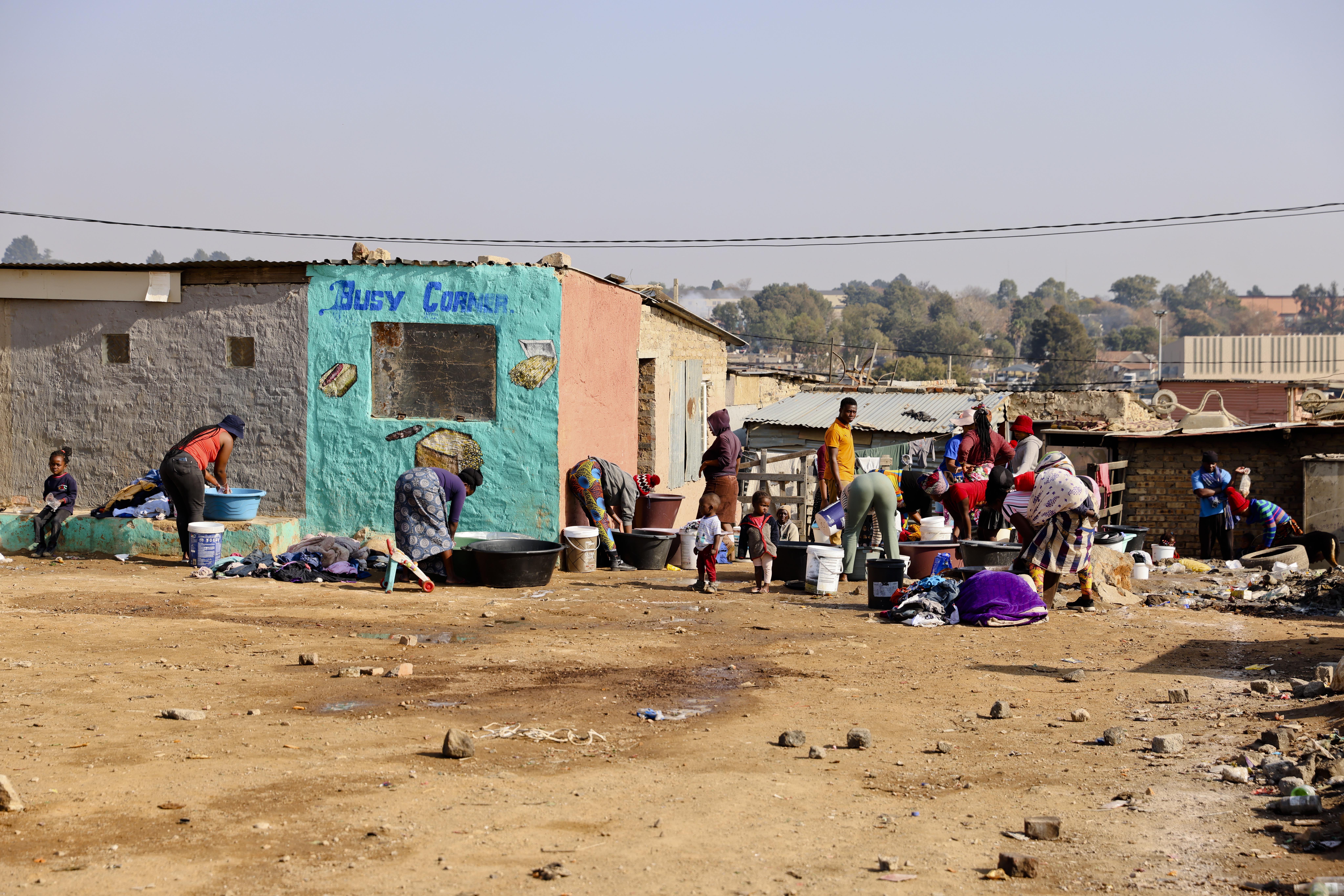 Life in the township is hard. It is unsafe, and the extreme poverty brings tears to your eyes no matter how often you see it. However, there is also so much joy, and laughter, and pride in the cleanliness and presentation of the people and their homes.
Spaza shops sit on every corner, and women and children are outside washing clothes and sweeping in front of their shack. The men are hard at work or sitting outside smoking and watching their children playing. They watch us cautiously but wave and a smile fills their faces as they see what we have with us; and the joy on their children's faces as they run back to them waving their new blankets and a photo with their friends.
"Imlungu! Imlungu!" you hear as you carefully tread through the sludge flowing down the walkway. Little hands grab onto yours as the children clamber for some attention and a big hug. They drag you off to show you their new toy – perhaps a stone that is a fast car through their imagination, or their puppy that is lying down at the entrance to their shack. They follow us as we walk through to the next area and we feel a bit like the Pied Piper as the giggles and conversation grow behind us.
Beauty from Ashes Home Visits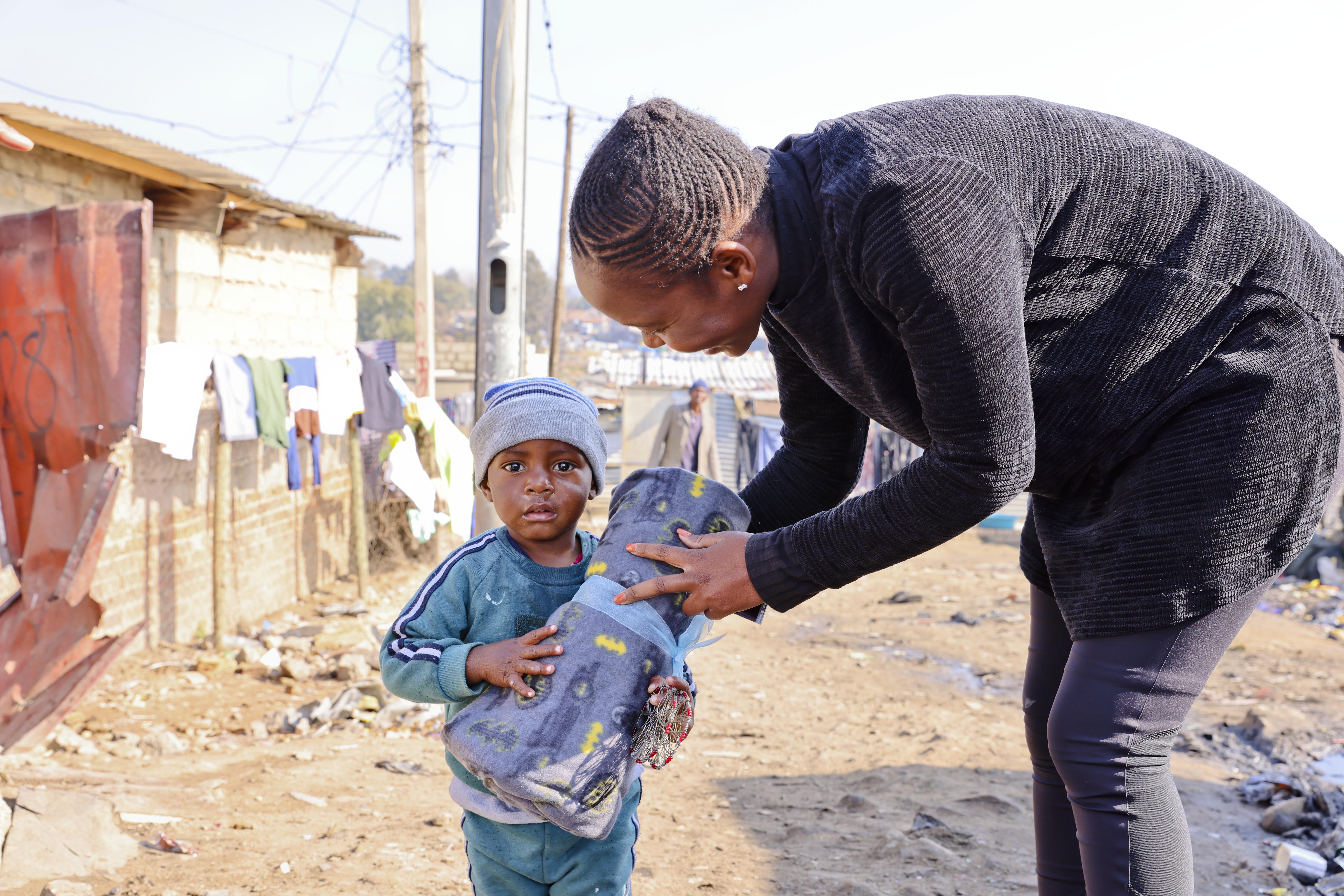 ---
Why Instax?
So why did I choose to put the Instax Mini Evo to the test whilst participating in home visits?
I wanted to be able to give back. I wanted a family to finally have a photo of their children in their home. I wanted the gorgeous bright smiles to be captured and remembered.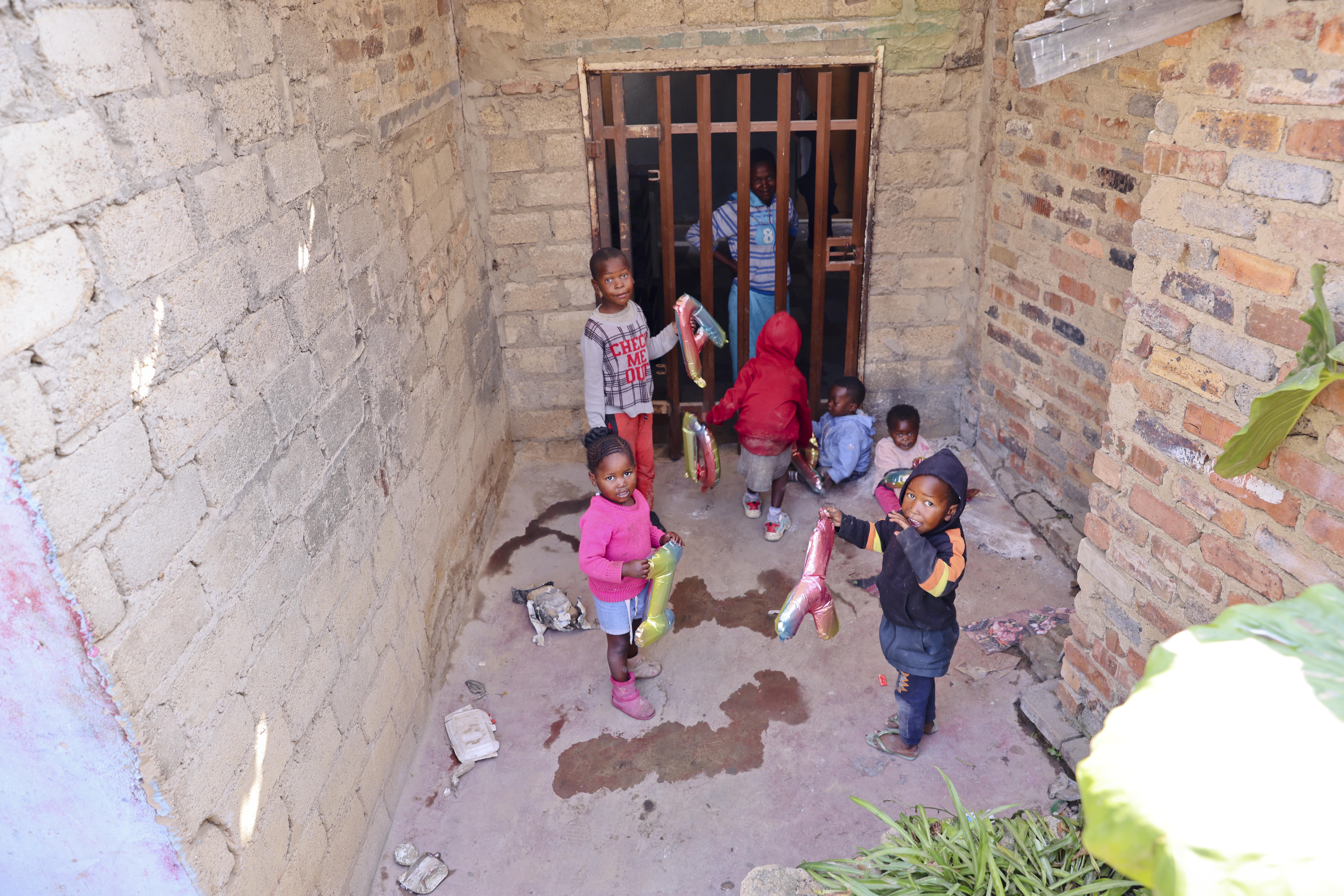 I wanted to allow the kids a chance to be creative and show their point of views. I wanted the mothers to happily show off their babies, and the shop owners to remain proud of all they have achieved.
There is beauty in this world, and I am so grateful that Instax sponsored the film to allow the printing of all these photos for the families that we engaged with. I could also print double copies of these photos once I returned home and include them in my photo album to share with Beauty from Ashes as a memory of the amazing work that they are doing in the community.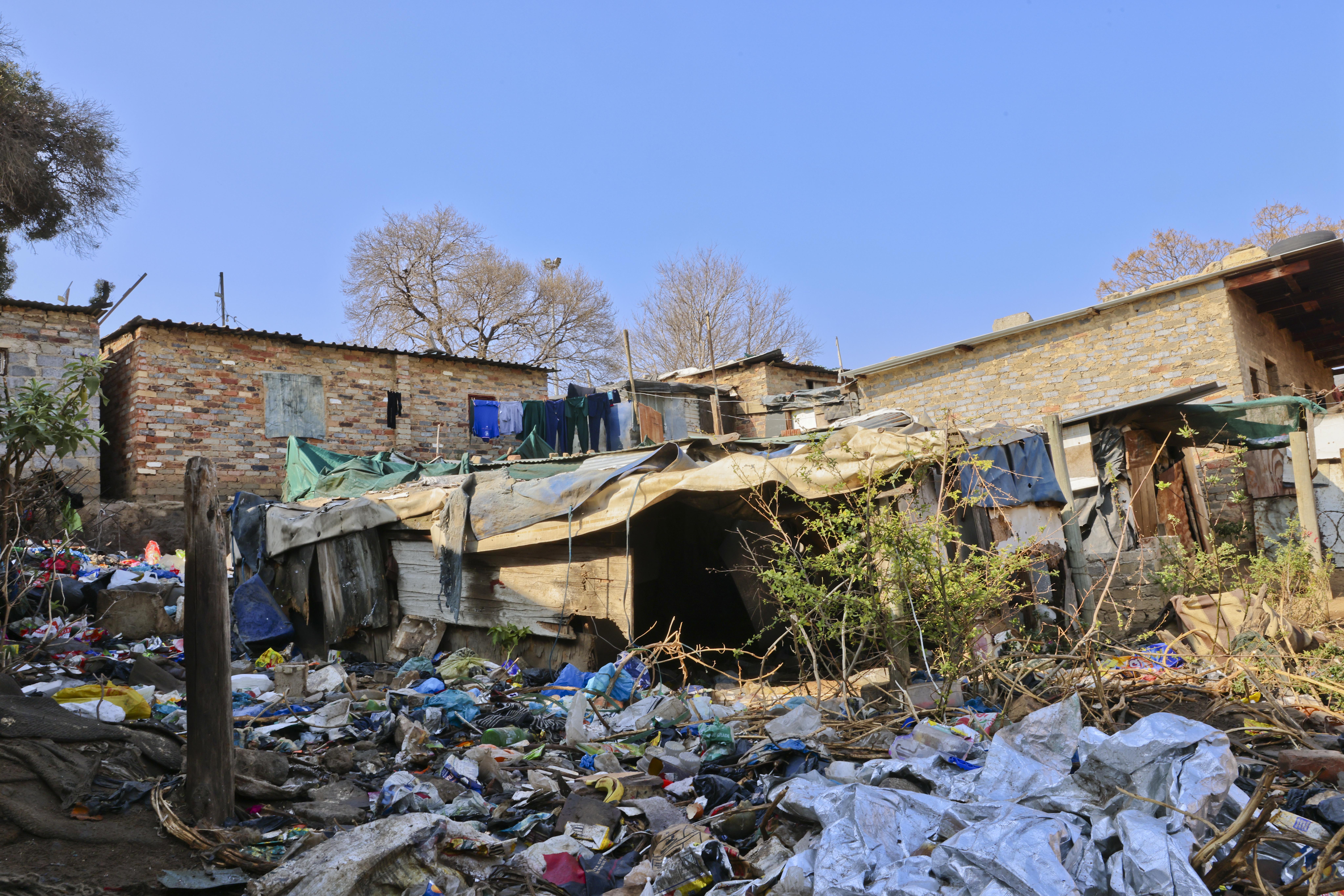 But I also wanted an opportunity to show the reality of the lives of so many living in South Africa.
Meet Anabella
Anabella is a lady that I have known for a few years now. And when we first met, she thought that she was experiencing heart issues. She was sad, quiet, and very withdrawn. She did not think that she had a future, and she was very worried about her children. However, we found out that she had extreme anxiety due to her living situation and being unemployed. She is now one of the happiest people I know, and she has a beautiful big smile that could light up any room. When I handed her the Instax printout of her, she burst into giggles and went inside to show her husband. Small victories mean small joys which mean a better mind frame…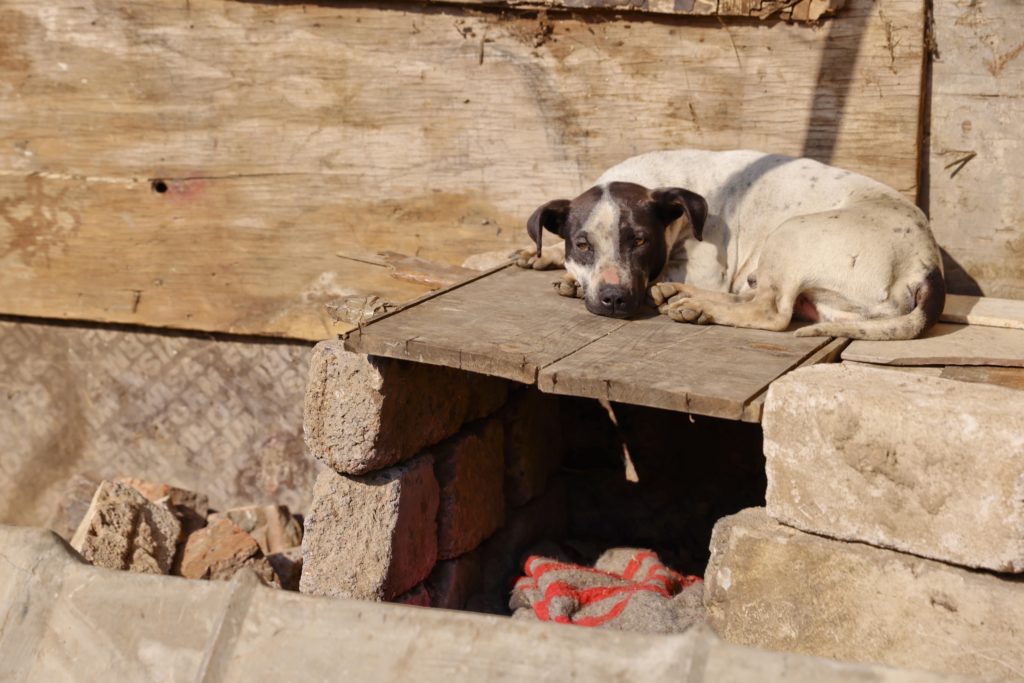 Film Effects
We had such fun printing out photos for everyone, and yet another aspect of the Instax Mini Evo that I really love is that you can connect your cellphone to the camera via Bluetooth and print any images from your phone. This means that you can get high-resolution and -quality images quickly and easily. There are also 10 film effects to make use of:
Normal
Vivid
Pale
Canvas
Monochrome
Sepia
Yellow
Red
Blue
Retro
---
In Closing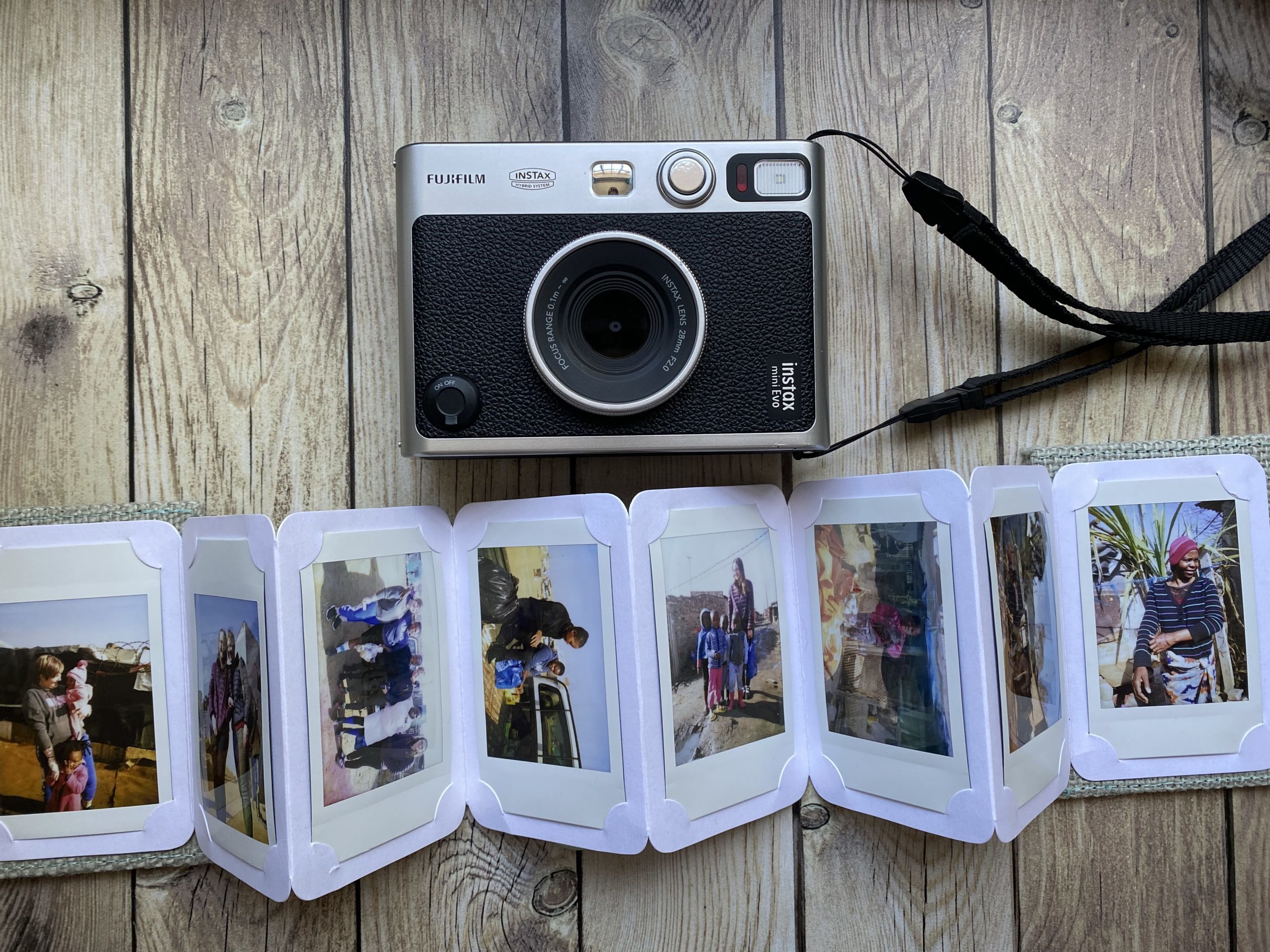 I had such fun with the Instax Mini Evo, and I have had great feedback from all the families that we were able to share both this camera and the photos with too. I love the fact that there is a large digital screen to look at before printing your photos, and I also love that this means you can print multiple copies of the same image or even print different angles of an event from everyone's cellphones.
---
Purchase Yours Now!
The Instax Mini Evo camera is available from Takealot for R2,489 or Makro for R2,499. There are many other places you can get this from, and I do not receive any commission from the sales of these cameras. They are light to carry around, easy to work, and definitely worth the investment in my mind.
A huge thank you to Instax South Africa for allowing me to experience the Mini Evo and for getting involved in a project that is very close to my heart. You guys have made changes in ways that you aren't even aware of!
{All behind-the-scenes photos taken by Applepip Photography}
---